Letter on Holding "Tea and the World, Tasting and Enjoying Together" Celebration Activities & 2020 Online Beijing Tea Expo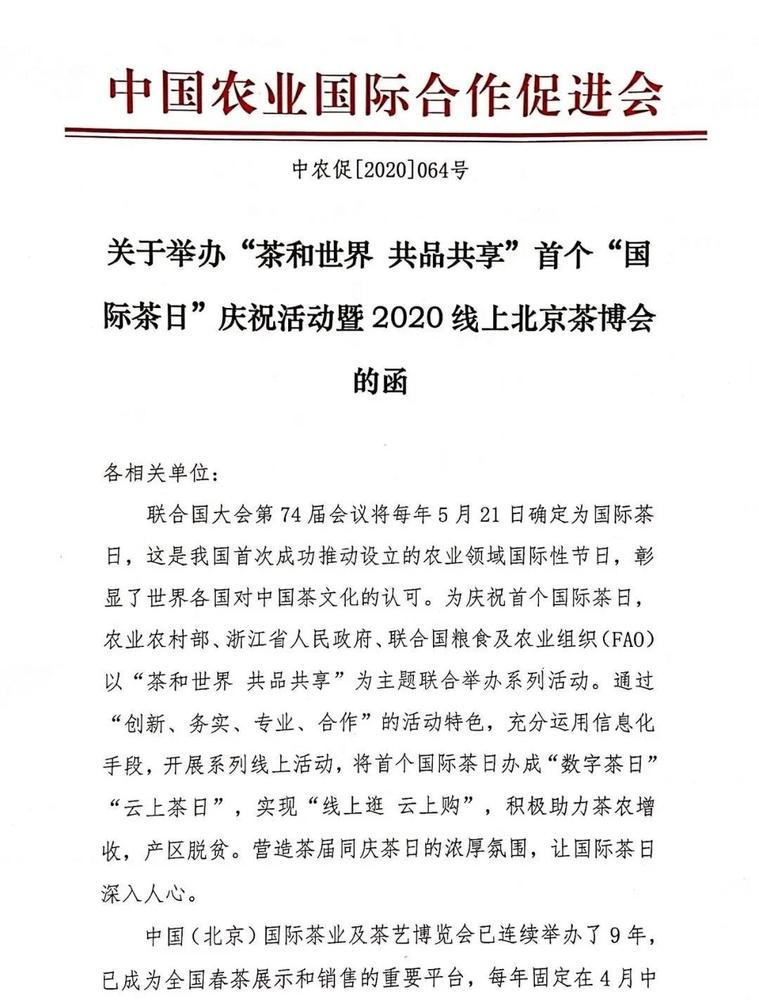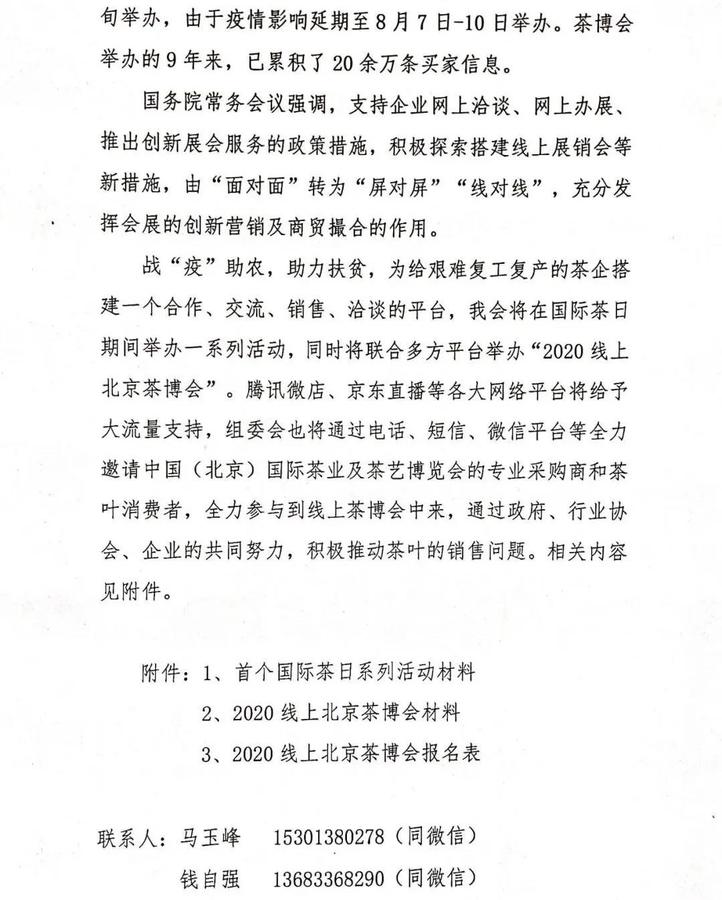 To the organizations it may concern:
The General Assembly of the United Nations decided to designate 21 May as International Tea Day. This is the first time that our country has successfully promoted to establish international holiday in the agricultural sector, featuring the affirmation for Chinese tea culture from countries all over the world. In order to celebrate the first International Tea Day, Ministry of Agriculture and Rural Affairs of the People's Republic of China, the People's Government of Zhejiang Province, Food and Agriculture Organization of the United States altogether held series of activities with the theme of "Tea and the World, Tasting and Enjoying Together". By way of the activities' characteristics of "innovation, pragmatism, professionalism, cooperation", fully employing informational tools, launching series of online activities, we made the first international tea day into "digital tea day", "tea day on the cloud", making "shopping online, buying on the cloud" a reality. It actively helps tea farmers increase income, thus is beneficial to poverty alleviation in the producing areas. Building a strong atmosphere of celebrating tea day together in the tea sector, we make international tea day staying deep in people's minds.
China (Beijing) international tea sector and tea expo have already been held for 9 years, becoming an important platform for spring tea showcase and selling nationwide. It is held in the mid of April every year on a regular basis. This year, it is to be extended to August 7-10 due to the impacts exerted by the pandemic. During the nine years since the launching of tea expo, more than 200,000 buyers' information has been accumulated.
It is stressed by the Executive Meeting of the State Council that firms' online negotiations, online exhibitions should be supported, we should promote innovative exhibition services, vigorously explore building new measures like online exhibition and so forth. The "face to face" mode is transformed into "screen to screen", "line to line", it is hoped that the exhibitions' effects of creative marketing and business commerce can be fully brought into play.
Battling against the pandemic, helping poverty alleviation, in order to build a platform aiming at cooperation, communication, selling and negotiation for the tea companies that are going through a hard time in restarting work and production, our association will hold a series of activities during the International Tea Day. Meanwhile, our association will joint multiple platforms to hold "2020 Online Beijing Tea Expo". Tencent WeiShop, JingDong Live and many other big online platforms will give it strong internet-based support. The committee will invite professional buyers and tea consumers of the China (Beijing) International Tea Industry to actively join the online tea expo. By way of the joint effort of the government, industry associations and the companies, the committee actively promote the selling of the tea. Please find the relevant content in the documents attached.
Documents Attached:
1. Series of activities' material of the first international tea day
2. Material for the 2020 Online Beijing Tea Expo
3. Registration form for the 2020 Online Beijing Tea Expo
Contacts:
Yufeng Ma 15301380278 (same number to WeChat Account)
Ziqiang Qian 13683368290 (same number to WeChat Account)
Yaping Tang 13269781410 (same number to WeChat Account)
Website: www. capiaccti.org.cn www.teaexpo.org.cn
WeChat Official Accounts of the Tea Committee: chaweihui
WeChat Official Accounts of the Tea Expo: cittego
Email: capiaccti@capiaccti.org.cn
Address: No.12, Road Nanda, Zhongguancun, Haidian District, Beijing (Inside of Chinese Academy of Agricultural Sciences)
China Association for the Promotion of International Agricultural Cooperation
April 16, 2020