Invitation to the 2019 "Belt and Road" Forum for International Cooperation and Development on Agricultural Modernization and 2nd Plenary Session of the 1st Council of the International Cooperation Alliances on Agricultural Equipment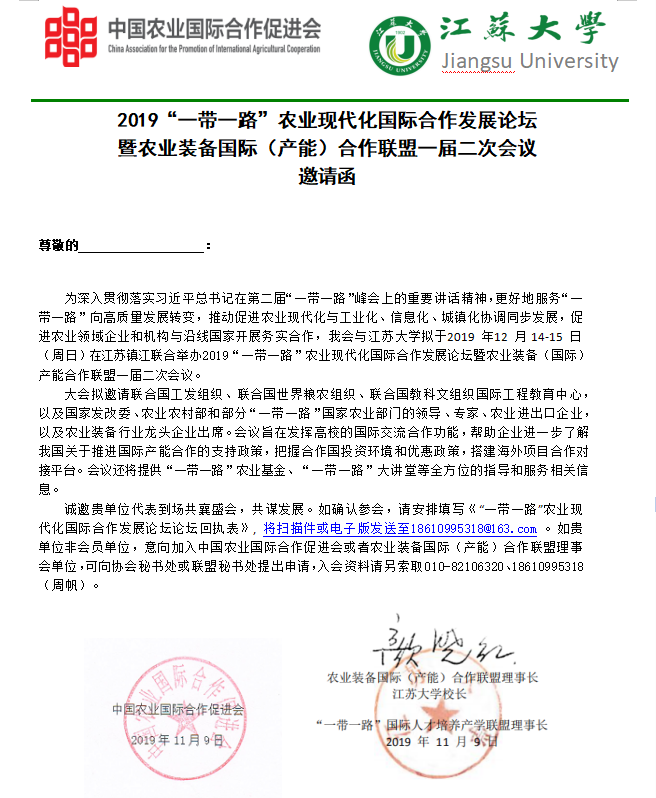 Ⅰ The meeting background
According to statistics, in 2018, China's total import and export of agricultural products reached $216.8 billion, and the stock of outbound investment in agriculture reached $19 billion. "In the next three years, China will send another 500 senior agricultural experts to help developing countries improve their agricultural production capacity."
The Chinese government attaches great importance to the construction of the "Belt and Road". At present, agriculture is still an important area for the construction of the "Belt and Road". Many countries are faced with problems such as backward agricultural infrastructure, imperfect production system, low quality and efficiency, and insufficient food security. It is urgent for us to join hands to strengthen cooperation, promote policy coordination, market integration, investment growth, and jointly promote agriculture. Upgrade. In 2019, the No. 1 Document of the Central Committee also explicitly called for accelerating and supporting agriculture to go global, strengthening the international cooperation of the "Belt and Road" agriculture, actively expanding the import of scarce agricultural products in China, expanding diversified import channels, cultivating a group of transnational agricultural enterprise groups, and improving agriculture and the level of external cooperation.
This background environment determines the best time for Chinese agriculture to go global. So how to promote the "One Belt, One Road" agricultural product processing technology transfer, trade smooth? How to improve the level of agricultural machinery in the "Belt and Road"? How to adapt to local conditions in Africa and other places to build water conservancy? How to carry out agricultural technology research and development and talent development? How do private enterprises actively participate in "going out" as a subject? How to carry out large-scale business roads in the "Belt and Road"? What agricultural special funds are used? How to promote planting experience, build a platform, and promote development?
Faced with a series of problems, China Agricultural International Cooperation Promotion Association and Jiangsu University invite domestic and foreign agricultural-related enterprises to jointly build a platform to provide occasions for face-to-face exchanges between the "One Belt, One Road" Chinese and foreign agricultural industry stakeholders. With a view to perfecting the "One Belt, One Road" promotion system for modern agricultural science and technology innovation, promoting the sustainable development of modern agriculture, building a global agricultural equipment technology display and exchange platform, and carrying out 2019 "Belt and Road" agriculture in line with the development concept of innovation, coordination, green, openness and sharing. The Second (Enlarged) Meeting of the International Cooperation and Development Forum and the Agricultural Equipment International (Capacity) Cooperation Alliance.
The purpose of the conference: "showing docking, integration of production and education, sharing development, green innovation"
Principles of the meeting: "Boutique, open, pragmatic"
Ⅱ Theme:
Invitation to the 2019 "Belt and Road" Forum for International Cooperation and Development on Agricultural Modernization and 2nd Plenary Session of the 1st Council of the International Cooperation Alliances on Agricultural Equipment
Ⅲ Institutional Framework
(一)Guidance Unit
United Nations Industrial Development Organization(UNIDO)
International Department of China National Agency for international cooperation and development
Department of International Cooperation and Exchanges of Ministry of Education
Office of the Forum on China Africa cooperation of the Ministry of Foreign Affairs of China
International Cooperation Division of National Development and Reform Commission of People's Republic of China
Council for Promoting South-South Cooperation (CPSSC)
China-Arab National Center for Transferring Culture and Technology
China-Arab States Youth Enterpreneurship Park
(二)Host Organizer Unit:
China Association for the Promotion of International Agricultural
Cooperation(CAPIAC), Jiangsu University(JSU)
(三)
Time:Dec 15th, 2019 (Sunday)
(14th:Registration and Board of Directors Meeting, 15th:Forum, 16th:Bid farewell )
Venue: Mingdu Restaurant, Jiangsu University,Zhenjiang, Jiangsu province
Foreign Guests:
(1) Representative of the United Nations industrial development organization
(2) President of zambian China friendship association,Former President of Zambia,Rupiah Bwezani Banda
(3) Ambassador of Zambia in China
(4) Consul general of Nigeria in Shanghai
(5) Representative of Ethiopia Embassy in China
Ⅳ Agenda
一、


二、2019"Belt and Road"Forum for International Cooperation and Development on Agricultural Modernization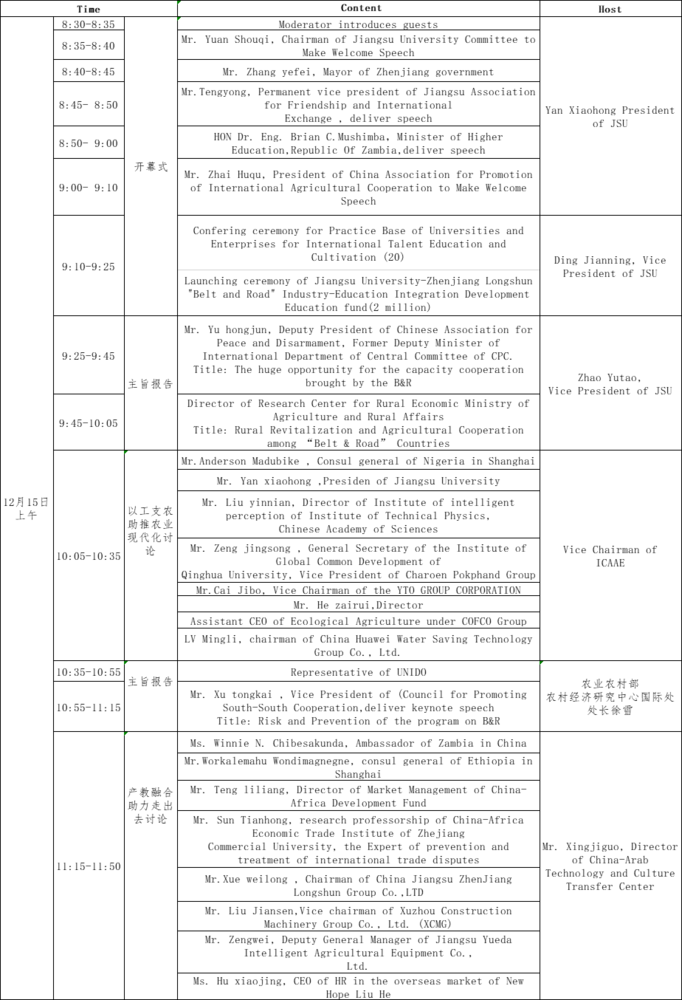 三、2nd Plenary Session of the 1st Council of the International Cooperation Alliances on Agricultural Equipment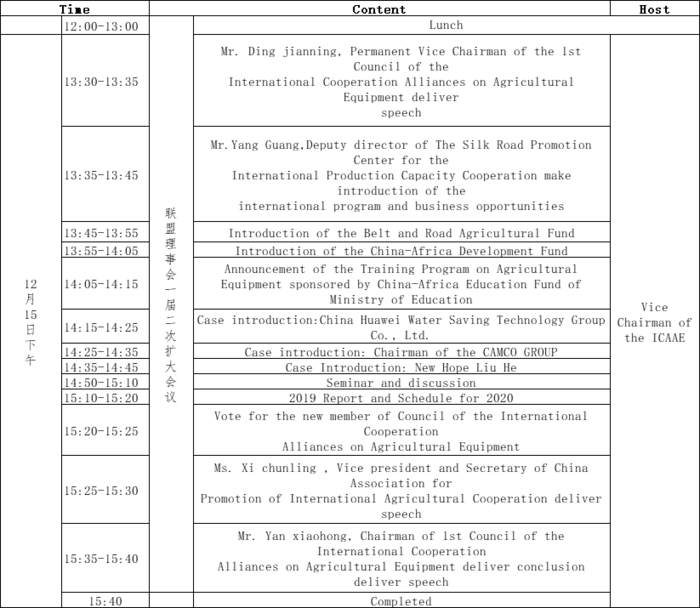 Invitation receipt form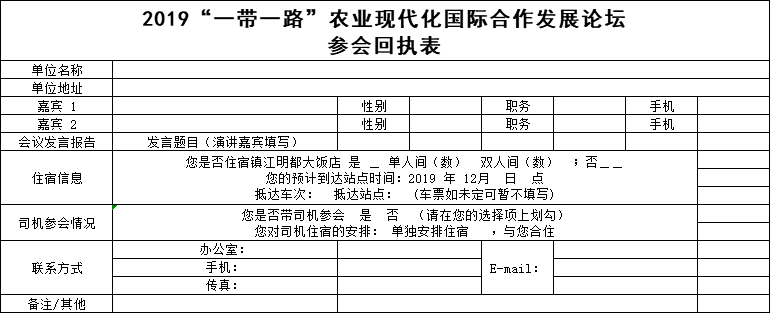 说明:
住宿费:特邀嘉宾与演讲嘉宾由组委会支付,其他参会代表食宿费自理(镇江明都大饭店协议价:普通房单间和标间统一¥308,高级标间¥358,豪华双人标间¥428)。《参会回执表》,请于 2019 年 11 月30日前发至论坛秘书组邮箱:
18610995318@163.com/br@ujs.edu.cn或传真至 0511-88792208,竭诚欢迎参会!
温馨提示:由于名额限制,每家单位 1-3 人参会,谢谢您的关注。
会议联系人:
崔勇手机:13852980920,0511-88786803(江苏大学)
周帆手机:18610995318、010-82106320(中农促)